Skip to content

About Us
The Middle East's Leading
Fitness Education Provider
Who we are
Our team collectively has over 50 years' experience and is made up of Ex-Olympians, Championship winning strength and conditioning coaches, award-winning coaches and specialist health and fitness professionals, who not only inspire others but know what it takes to be hugely successful.

Our master trainers go above and beyond the standard curriculum in their teaching and they put you, the student, and your learning experience, at the centre of their focus. They will equip you with all the skills and knowledge you need to succeed in the health and fitness industry and will continue to offer support to you long after you graduate.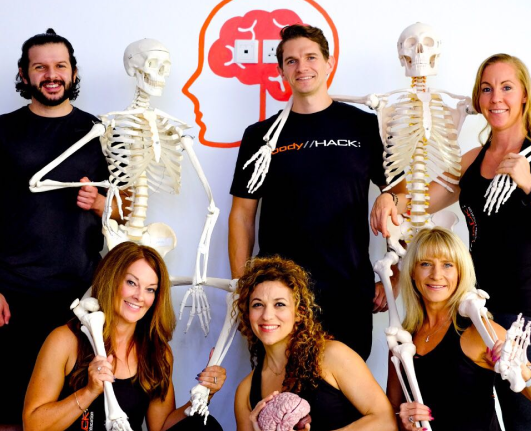 What makes us different?
What separates us at Bodyhack is our genuine care for our students before, during and long after they graduate.

We are blessed to have a wonderful team that first and foremost have been selected based on their expertise personalities, professionalism, character and ability to teach in a way that makes each student feel taken care of and supported. We all have both a sports science and neuroscience background that allows us to teach all courses with a neuro centric approach.

When you take a course with us it's not just a certification that you get. we consider you to be part of the Bodyhack family for life and you have continued access to our team for advice, support and mentorship as well as life long access to our courses.
YOUR EXPERIENCE
We work with some of the Middle East's leading fitness centres to ensure your experience is second to none. We offer blended online and face to face learning which makes it easy and convenient for you to learn. You can start any time and study anywhere, anytime! The practical face to face sessions are very dynamic and interactive and are held at some of the best gyms in the region.

Exceeding student expectations is a priority for us. We have over 300 – 5 star Google reviews that are supported with comment after comment of very happy graduates. Below are some of the most recent examples:
"I recently completed my Pilates Matwork Diploma with Bodyhack and can't recommend them highly enough. They are a very professional organisation with extremely knowledgeable instructors who also made the course engaging and fun. I will definitely be doing more courses with Bodyhack."
Aisling Young
"It was such an amazing experience with body hack that changed my life, gave me an insight of how professionalism looks like i would highly recommend it to any one that is looking forward to inspire others"
Usamah Ismail
"I've taken 3 different certification programs with BodyHack; Loved them all. I have also taken several. CPD courses and workshops with the company. Definitely recommend BodyHack if you are looking for caring, knowledgable, and personable instructors."
Corleen Gallinger
"Coaches are world class, and the practical days was delivered in Max and Aegle, possibly the best gym facility in Dubai."
James Machon
"I have inquired a lot about PT courses before deciding to go with Bodyhack and I can say it with confidence that they are the best. The staff very responsive, the tutors amazing and fully prepared. I'm learning so much from them. Highly recommend"
Eniona Hasi
"Love everything about Bodyhack;professional, skillful, knowledgeable staff very responsive, reliable and accommodating. Can only wish to continue my journey with your well selected courses!"
Elina Metlevica
© 2023 Body Hack. All Rights Reserved
Price Based Country test mode enabled for testing United Arab Emirates. You should do tests on private browsing mode. Browse in private with Firefox, Chrome and Safari